Automate simple tasks using Macro in Zoho CRM
We have seen what Zoho is before, and also have carried out the right automations in the past. Macros are a real good way of keeping automations simple, and empower the users to carry out their own tasks. Macros are available only in Zoho CRM's enterprise edition as of today. Macros are created and owned by users – just to reinforce the message if you missed it. Macros are also not automatic, but have to be initiated manually. Check our earlier posts on automation topics.
Create a Macro
Creating a macro and configuring it is a straight forward task. In Leads, Contacts and Potentials screens, you will have a 'Run Macro' option. You select that option and in the drop-down menu select a macro to run, or create a new macro.

Select 'Create Macro' in the drop-down menu to open the configuration screen. Here you can create simple actions to be performed on the selected record.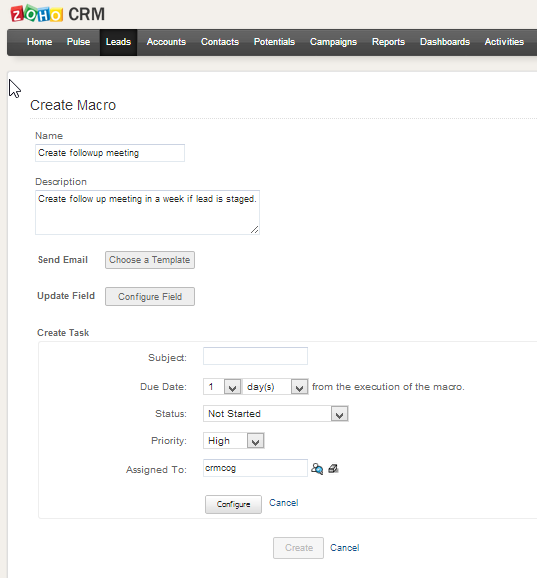 You can do any or all of the following tasks using macros:
Send an email. Emails can have their own templates in Zoho CRM, which can automatically pick data from the current record. When combined with Macro this implies that emails are sent in one click. You can have only one email task per macro.
Update fields in the current record. You can carry out up to 3 field updates.
Create tasks and assign to yourself or others. Here again, you can create up to 3 tasks (Zoho really believes in the power of 3!)
Run a Macro
Well, this isn't anything to write about. Run the macro you have created using the 'Run Macro' option against the record. Note that you can also run the macros for multiple records in the 'list' view.
Well, that is all about macros folks. Do you find macros in Zoho CRM useful? How do you use them?
Comments powered by

Disqus