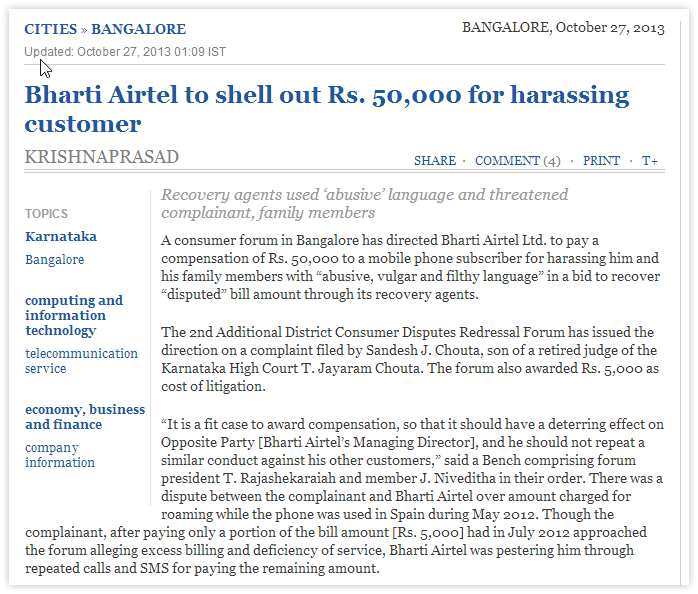 Airtel's not-so-bright customer story
As most of us here in India understand, customer service is not on top of the list of any of the 'mass' service providers. The reason is simple - no matter how bad your service is, either there are no better alternatives, or the churn is so much that you simply do not care.
The Hindu reported a not-so-bright customer story of Airtel recently. Airtel started following up its one of its customers, but most likely went overboard in recovering the dues. Unfortunately for the company, the customer turned out to be a son of a judge, and the judge himself was subject to a prank call - both of which ultimately resulted in Airtel relieved off Rs. 50,000 and a good story for us.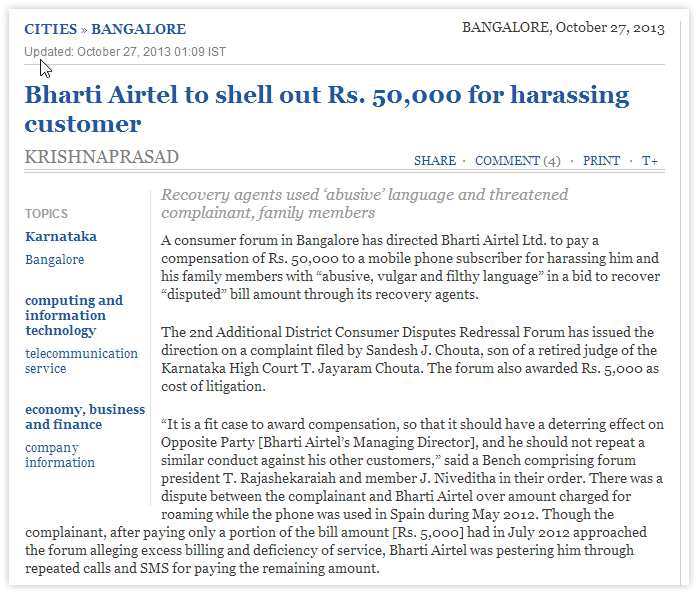 src: The Hindu
Although I doubt whether it was a deliberate act on Airtel's part, and it was most likely an over-enthusiastic recovery agency acting smart, this story is a good example of a number of things going bad at the same time. There are a few lessons to learn here.
When a recovery has gone the legal way, there was no business to send this case to recovery agency in the first place. The people are most likely to blame, but hopefully the IT systems are going to be spruced up to prevent recurrence of such incidents
It is all the more likely that the recovery agency itself is not well integrated as a partner system. Though I doubt whether such a recovery agency is going to be really computer savvy for this to matter, there can surely be ways to stop potentially damaging calls from happening in the first place
Worst of all, Airtel never bothered to react (or I missed it completely). The least it could have done is to apologise (social media can help), provide some ho-hum explanations and move on. The best it could have done is to explain what measures will be taken to prevent such incidents
Comments powered by

Disqus