Enable Notes in Salesforce
I am a big fan of all tools that help me organize. It is another story that I still stay disarrayed, but that's just me.
Notes of all types help me stay up to date, focus on the tasks at hand, and prioritize my day. That includes -
The notebook (yes, even in 2015)
Google Keep on my phone
OneNote (yay!)
With that background, I can completely understand when our CRM users ask for ability to take notes within the application.
My standard answer to those requirements have been -
Create a Note object (or enable it - depending on the CRM platform you are working on), and ask users to use that
A quick, helpful tip to the users to use their damn notepad to make notes
Or, ask them why they can't use their notebook since that is quicker and easier
Enterprise applications ignored this for a long time. Salesforce is no exception.
.. until now, that is.
Notes in Salesforce excite me more than it actually should. It helps the users to jot down points quickly and easily. They can get back to those notes later and use them in a super data entry exercise.
Enable Notes for your Org
Notes do not come enabled by default. You have the good fortune of ticking a box to start with Notes for your org.
Go to Setup | Customize | Notes | Settings.
Check on the box.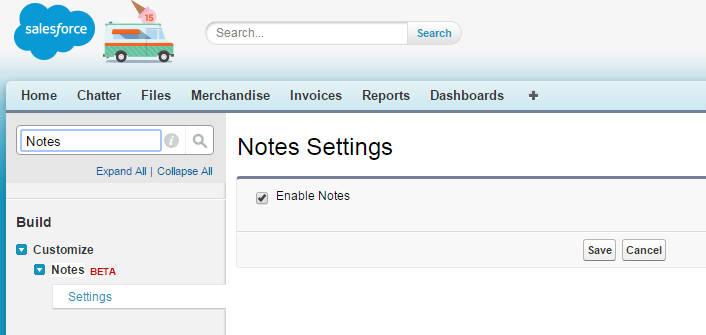 Create new notes against records by navigating to the Detail page, and hitting the "New" button against "Notes & Attachments". You will see the below page where you can enter notes and share that with other people or groups.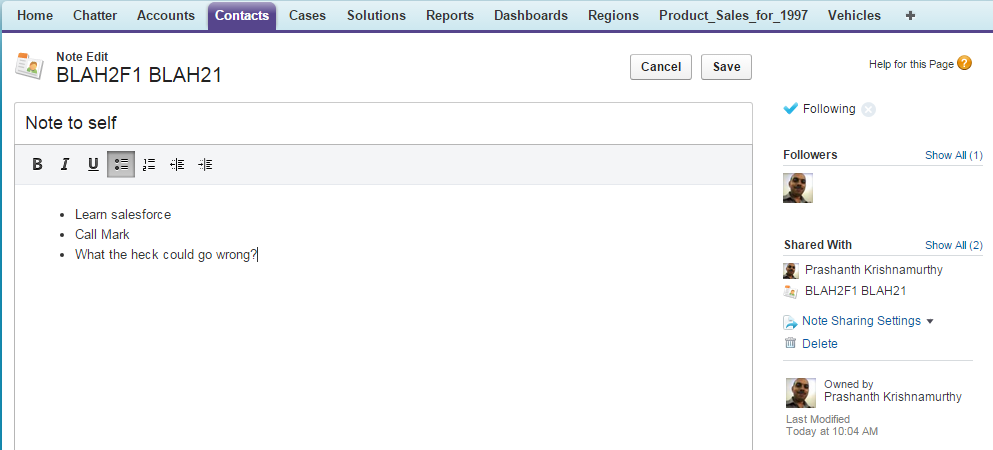 Notes are visible in Chatter feed. They are Files in a different avatar.
Other users can share, like or comment on Notes.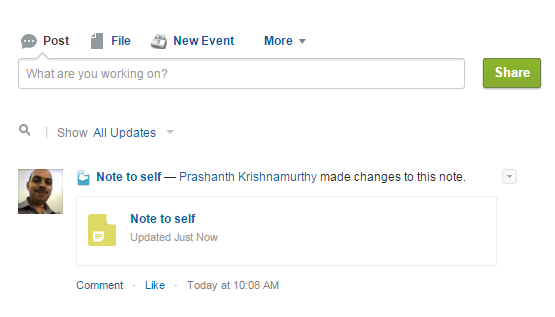 This is all dandy. But what if you want to create unrelated notes? Fear not, there is a solution for that too.
Navigate to Files tab, and click on any links under Notes. You will see a New button that helps you add Notes that are independent and do not have any worldly attachments.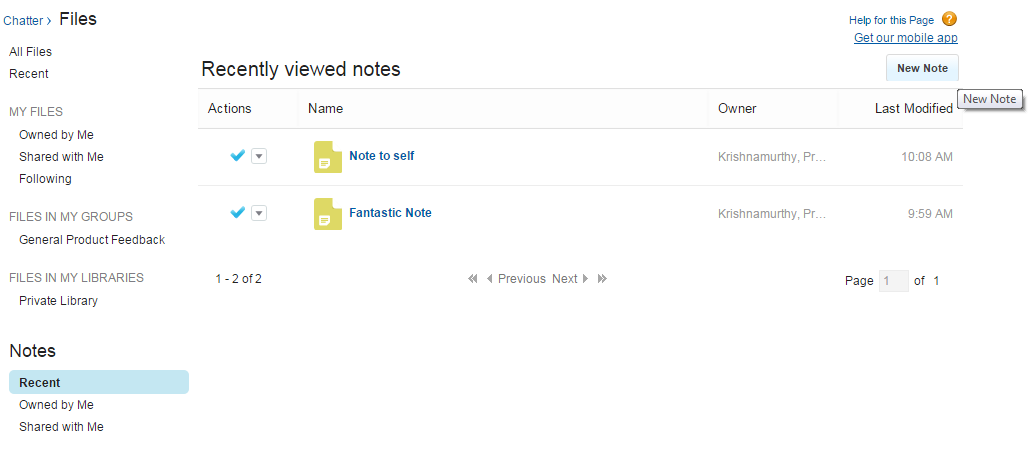 Notes like the above are private by default, but you can always change the Note settings to make any Note private, public, or shared with specific people/groups.
Notes in Salesforce1
The complete power of Notes is seen on Salesforce1.
On a mobile device, access Notes and create new Notes through a button on the Action bar.
You can create a task by swiping a line within a Note and work on those tasks within the Note.
You could also relate Notes to one or more records in Salesforce.
What else?
Since Notes is a stand-alone feature, you can search through Notes and also report on it. However, those features will not consider your older notes created before enabling the Note feature.
My gripes with Notes are mainly about the way the Notes are captured.
You click on New in File tab | Notes or in | Notes & Attachments.
This will navigate to a new view where you will enter Notes and go blah. For some reason, the Save button does not close this view and return you back to the original tab. That may be a temporary bug.
A shorter, quicker way to do this was a popup ala 'sticky notes'. Take a look at Odoo to see how powerful (& useful) the Notes functionality can be.
Notes is currently in Beta. That means things could go wrong, and use it after you've taken sometime to test it.
Find more information on Salesforce Notes. Also, refer to guidelines for using Notes in Salesforce.