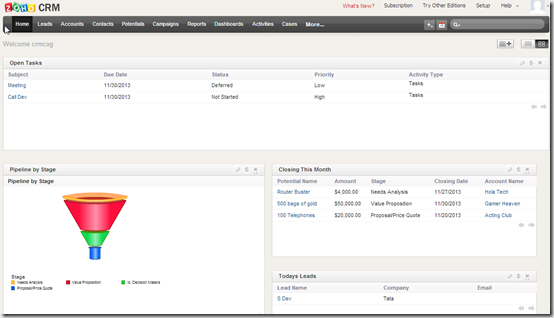 Zoho CRM is functional and beautiful
Zoho CRM has been on the CRM scene for quite sometime now, and find mentions regularly in analyst reviews and findings. Although I have tried it before, I did not come back impressed  - Zoho CRM had limited feature set, was not extensible, and did not look or function well. But, boy they changed and how. Zoho CRM impressed with significant changes in the look & feel, functionality, extensibility of application and more. Zoho CRM is functional and looks beautiful doing it.
Who is Zoho CRM for?
Zoho CRM has been traditionally targeting small and medium scale customers. The way I saw it, the software was suitable for small organizations that needed a central place for tracking customers. That was then, this is now.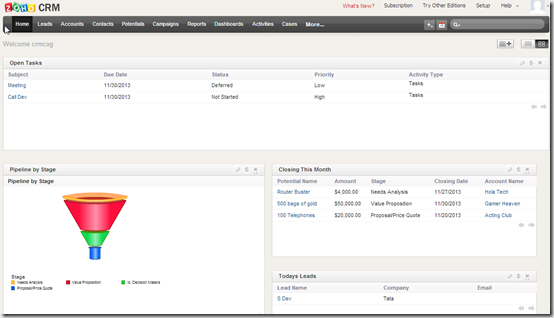 Zoho have taken a good step forward that will certainly be appreciated by small and medium business who have traditionally been Zoho CRM customers. The new feature set also has the potential of attracting independent divisions of a larger enterprises.
Zoho CRM is functional
Zoho has improved the CRM feature set with its latest release in Nov 13'. I liked a few good features in my scheme of things.
The UI has improved leaps and bounds, all screens look polished. Themes and colours are controllable by the users/administrators to suit their tastes. The detailed activities that provide contextual information for a contact or account do not clutter up the screen. The smallest of the small animation during navigation adds a nice touch.

Navigation between various screens is a breeze. The performance is top notch (for the instance I use, it is only functional as a test bed). The 'Recent Records' at the extreme left and ability to quickly add information to the account/contact is a beautiful touch

The 'Chatter' like Notes for an account or contact will be deeply appreciated by CRM users. Multiple surveys put the note taking ability in the top 5 requirements from a CRM system
Social networks play a big role in today's relationship building, and  the way Zoho CRM does it is quite good. While allowing for the users to get in touch with customers directly through the CRM layer, all transactions from the customer are put in a usable context

Zoho CRM is mobile-ready and comes with apps for Android and iPhone

Zoho CRM is free for up to 3 users (and 5000 records). The free edition is functional with most of the above capabilities, but does not allow you to extend functionality with new modules or add more users. Small businesses may opt for the USD 12/user/month plan for starter needs, it can go up to USD 35/user/month for deeper CRM needs. Compare the different editions for a better picture of what can or cannot be done.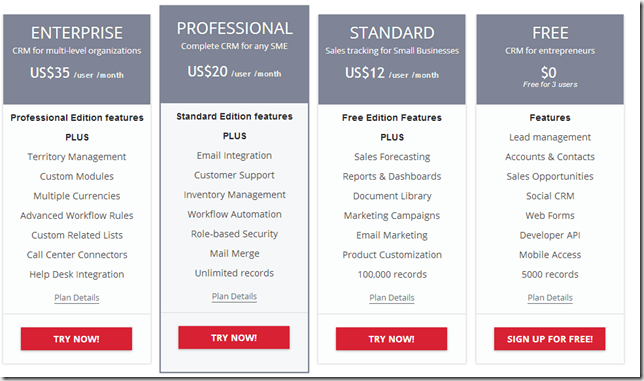 Next Steps
Comments powered by

Disqus