Insightly - Nifty CRM for Small Business
Insight.ly calls itself #1 for small businesses, and over 50,000 users. So, does insight.ly cut it when it comes to CRM. Let's go check it out.
What is Insightly?
Insightly is an integrated CRM and project management application that is targeted at small businesses. Insightly goes beyond mere CRM, and aims to be the platform to serve all the needs of small businesses.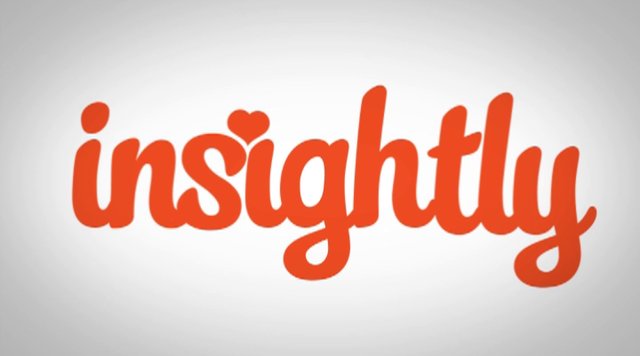 Founded in 2009, Insightly is a CA, US based company. It has gone through a couple of successful funding rounds, and makes all the right noises when it comes to small  business CRM. Read the updated state of the company on techcrunch.
Insightly belongs to the breed of "modern" web application. All you need is a browser to access the application - all standard browsers are supported. Insightly apps are also available for Chrome browser, and for Android and iOS platforms.
Here's a list of features to get you acquainted with what Insightly can do for you -
If there is one thing that can be called out about Insightly - it is integration with Gmail / Google Apps. This feature is certain to come in handy for people making inroads into organizing their data, and getting promoted from mere emails to applications.
Insightly supports Contacts, Activities and related information. You can add more fields to tailor the application for your own use
Supports desktop and mobile browsers. Mobile apps are available
Supports basic project management tasks
Integrates seamlessly with Google Apps, Office 365
Integrates well with Social media platforms
Create reports
Get started on Insightly
One thing that striked me most was how effective is the on-boarding process for a customer. You just head over to Insight.ly, sign up and that's about it. You are live on your own CRM application. You will also receive an email with your login details, and -
An URL that will provide you direct access to the application
A "getting started" document that bombards you with a bunch of text that talks about the basic CRM concepts - Contacts, Organizations, Team concepts, and how to get your older contacts/accounts/competitors within Insightly
You can start accessing Insightly in all of 5 minutes that it takes to sign up. You can also use your Google Apps login for Insightly.
Insightly Pricing
Insightly is free for 3 users and you do not need a credit card to get started.
The pricing is simple, and aggressively targets the market.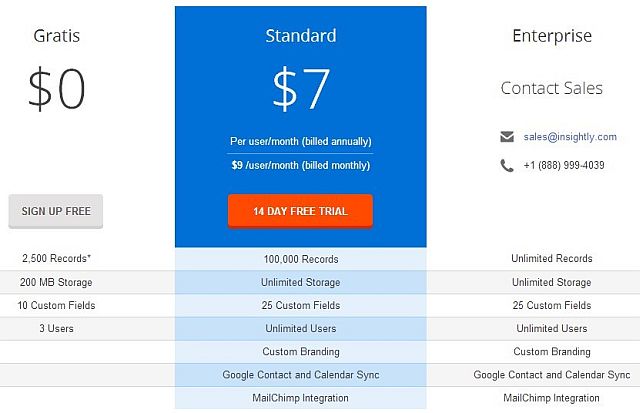 The free edition is fully functional. You are restricted to store 2.5k records, or 200 MB, whichever is higher.
Insightly CRM Review
From the word get-go, you will notice that Insightly is aimed to quickly get people as comfortable with the application as possible. If you have been reading/writing emails, you are all ready for Insightly.
There are no books to study, no training to under go (well, they do have trainings though), and no long gestation periods. You and your users are all ready for the application in a couple of hours at the most.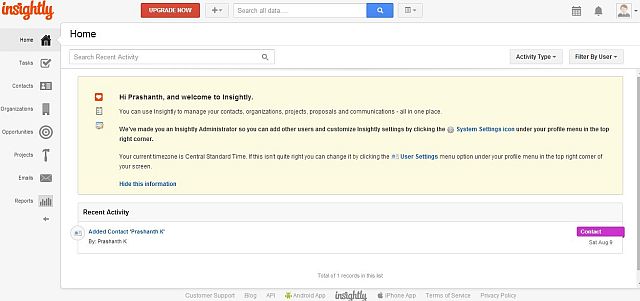 Insightly has some good materials/help to get your users started on the application, and for that is no doubt a big help for any organization to get their users typing away in the CRM application.
Application Set up and Administration
Head over to the user settings to set up your experience.
You still see how tightly the application weaves into your email.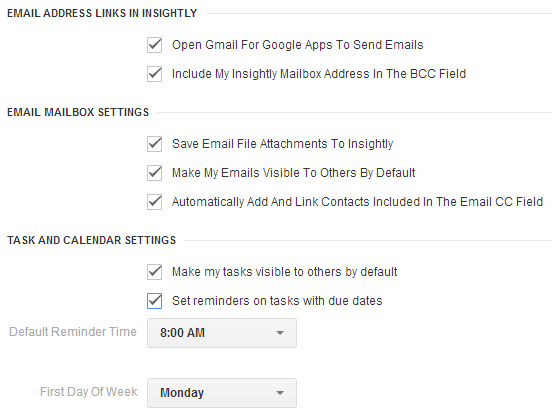 In fact you are given an id that you can copy all your emails to. Insightly creates those contacts, activities and stores emails with the right visibility. What more - the emails are also linked to each other so that threaded conversations are represented as appropriate.
Don't want others to see this email id? No problem - just BCC the email id, or forward the email later.
There is support for multiple time zones, currencies, and to sync your contacts from Google. You can also request email notifications to be sent whenever there is any activity on the contact, notes, attachments etc.
And, of course not to be left out - you have themes that can change the colour combinations.
Usability and other stories
There are three main features at the very top of the application.
Search across all your contacts, activities, notes etc.

Go to the most recent 10 records that you had been working on

Add new records to any entity from anywhere within the application with two clicks


A series of small and big features are impressive, and will certainly add to that "zing" to the application. Start with the fact that application is really fast, and pleasing to look.

Insightly uses contemporary UI to outline same old CRM messages (Activity Started, Customer Died etc.)


In-line queries for records, with pre-defined queries


Link anything to anything


Use tags for user-driven categorisation across Contacts, Organisations, Projects, and Opportunities

In-line edits everywhere

Fast search with auto complete

Easily import files - Insightly makes some intelligent guesses about nature of data being imported, and user can map the columns in Excel/CSV to the fields available in Insightly. Google drive integration is supported as well

Simple features like changing colours of activities on the calendar, ability to drag & drop multiple files to the Contact/Organisation window in order to add attachments, and in-line help for less used terms are sure to be appreciated by users

What I did not find amusing -
Position of the New button: I am not really sure why would anyone want their users to navigate all the way to the top right portion of the screen just to create a new record
Single column window. More the number of fields, more you scroll, and the more of data you cannot see
Mouse intensive. For e.g. after you navigate to a contact, you need to click on tabs to get associated details

Insightly Integration that takes your breath away
Insightly recognizes that it cannot do everything for you. The application takes advantage of many of the features of external web applications, and uses them. Also, the reality is that it is a big achievement even to kick the users up the value chain (or down the drain) while implementing CRM. Using the same applications that users would have used outside of CRM is a big plus when getting them to acknowledge the benefits of CRM.
Insightly started as a Google App, so the integration is done pretty well with all Google applications. A few integration that popped out at me are listed below, you can also see all supported integrations on Insightly.com.
Social media integration is good. You can ask Insightly to scan the email id and get ids, or add the profiles yourself. You can then follow a prospect/contact, and view her Twitter/LinkedIn activities within Insightly.

Insightly is seamlessly integrated with Gmail (it also integrates with Outlook through an app). You can do plenty of things within Gmail

Just send an email to add contact
You are given individual ids to each of the records. By sending email to the record the activity gets recorded and linked to the particular contact/organization, opportunity within Insightly
Assign tasks to others in the team

Integrate with MailChimp to send mass emails
Integrate with web forms. Insightly can generate the HTML for you
Data Security
Insightly claims that data is stored in a secure location that is SSAe and TRUSTe audited, and all stored data is backedup synchronously. But what we are interested in more is the data visibility.
Interestingly, for a small CRM application Insightly supports both individual and team visibility.
Activities, contacts can be marked private to the user
You can assign records to yourself, a team, or to individual people
Control team based visibility where available

In Conclusion
I am impressed with Insightly.
What started as a CRM application for Gmail/Google App users has certainly matured into a fully usable solution for small businesses.
My recommendation - Insightly may be just the right application for you if:
you have < 50 employees
you are interested in contact/opportunity management and having all communications within the same application
Insightly can be the first CRM application that you can go to, and you will find your users accepting the application with open arms.
At the same time try to think long. You would want to think about -
Support for user data validations and workflows
Support for a few data types that are specific to your industry/business
You can certainly start with Insightly today, and look towards graduating towards something else when the time is right. In the meantime, allow Insightly to add more capabilities and try to solidify your own requirements from a CRM application.